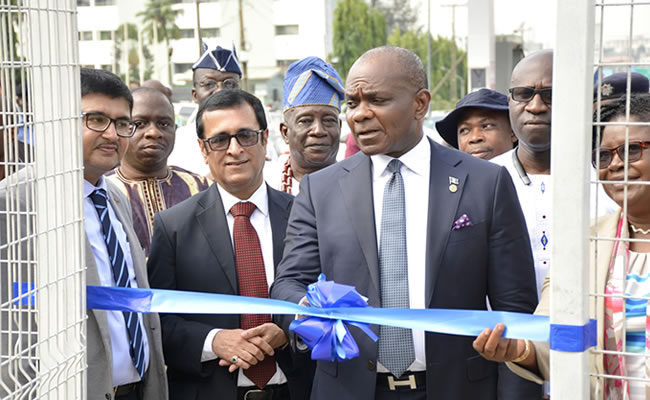 Launch of Liquefied Petroleum Gas (LPG) At Select Mobil Service Stations near you
June 10, 2018
Posted by: admin
category:
no comment
With NIPCO Investment Company taking over controlling stake in Mobil Oil Nigeria plc now 11PLC in 2016 came a new dawn. One of the several positive synergies thrown up from the acquisition is that both company can very readiness leverage off each other strength and areas of best endeavor.
Our sister company NIPCO is very strong in LPG business with extensive assets and infrastructure within the various value chain covering both storage (A major player in LPG with a huge plant 10,500 MT storage capacity her office), distribution (Availability of 42 dedicated LPG delivery trucks with capacity ranging from 3 tonnes to 25 tonnes per delivery) and various other investments at the retailing end of the business. With the strength coming to bare, we are further guaranteed of regular supply of product to our customers.
Additionally, our supply source, NIPCO has technical supply agreement with Nigeria Liquefied Natural Gas (NLNG), the largest producers of LPG in the country, this further reinforces the fact that our pipeline will be uninterrupted and guarantees us steady supply. We have full confidence in the strength of NIPCO having been in the business for over 10 years.
We are taking advantage of opportunity provided by governments initiative through NNPC for rapid growth and expansion of LPG market especially due to the abundance of natural gas deposits in the country. Clean energy is the way to go as is the trend in most developing countries.
A lot still need to be done in terms of other infrastructure like piping of LPG to individual homes and creating more aggressive awareness on the advantages of the use of LPG to power our domestic cooking. Other positives is it this will drastically reduce deforestation and loss of natural habitat for some animal species an also by implication reduce adverse effect of these on climate change. On the health front, it will guarantee cleaner oxygen being inhaled by our teeming populace and prevent airborne diseases caused by carbon monoxide.
We naturally have seen great potential for the growth in this segment by bringing onboard our many years of expertise in downstream oil marketing. We want to enjoin you all to partner with us in this our new business endeavor of retailing domestic cooking gas using select retail sites in Lagos Nigeria as a pilot and eventual to spread to other markets given a favorable economics.
We have made considerable investments not only in the LPG assets such as the gas skids, compressors, pumps, generator sets, water hydrants and other safety equipment, we also continually invest in human capital growth/ development and training and re-training of our attendants (Last week, we brought in 20 personnel directly involved with LPG operation and trained them in our Apapa office in conjunction with the Nigeria Liquefied Petroleum Gas Association – NLPGA).
We commit to continue with such re-training exercises to build customer confidence and increase the use of LPG in our homes as opposed to other none friendly alternatives such as kerosene and firewood.
We assure you of the quality and the quantity of your purchases as our dispensing pumps and meters has been properly calibrated to dispense accurate volumes and eliminate shortages. We also have deployed weighing scale at the sites to enable customer confirm their purchases should they want to verify their quantity purchased.
All of these is to ensure our customers feel a sense of fulfilment and they are delighted with good buying experience with us so you will want to call back. So in a nutshell we have the best in class and safest LPG skids and other equipment you can find currently in the market, trained dedicated, motivated manpower to dispense the product and handle customer related enquiries, a sound technical and support team that will maintain the equipment routinely for accurate quality service delivery, improved customer service focus leveraging on our strong brand equity.
We are quite confident we have positioned ourselves for further growth and expansion ahead of us as we continue to steward and deliver on quality product using the flawless operations we have been known for over the years.
At this juncture, we must ones again thank you our customers and partners alike for the unflinching patronages and support over the years. Without you all at the various levels of your involvement in our business, we would not have made it thus far. We encourage you to continue believing in us, our products and services as we will continue to strictly adhere to best operational business standards and ethical conduct as we vigorously sustain the code of conduct, ethos and drive for operational excellence.
I now will briefly delve into some areas of LPG itself, its usefulness, quality and safety tips in its handling as we want this to be a very useful and beneficial engagement.
Liquefied petroleum gas (LPG) is safe to use and ours will give you very low cost of running your home when compared with competition as our gas is filled to the brim. You are encouraged to weigh your cylinders before and after purchase. LPG is typically used with appliances at our homes such as our domestic and industrial gas burners, stoves, barbecues burner, refrigerators and heaters. In other instance these appliances are used during leisure time context, for example in holiday cabins, boats and caravans.
Gas appliances intended for private consumer use are supplied ready for use. Make sure you follow the manufacturer's instructions as provided. Good care of domestic appliances also entails remembering to check your gas cylinder installations on a regular basis.
When using LPG:
Make sure you regularly check your gas cylinder and installations for damage and leaks.
Replace or service any worn parts in time.
Ensure there is always adequate ventilation in premises where LPG appliances are used.
Follow the user and maintenance instructions.
When leaving the premises for a longer period of time, shut off the cylinder valve; if using the clip-on type turn the regulator switch to 'off' and if using the screw-on type rotate the valve until shut.
These are important safety tips we should deploy for use of LPG in our homes
You may refer to our safety pamphlet for further information of safety stopgap measures important for the use of your gas cylinders.